Pre-Payment Options


ATTENTION PARENTS: WE HAVE TRANSITIONED TO A NEW ONLINE PAYMENT PROVIDER CALLED SCHOOL CAFE. WE ARE NO LONGER USING EFUNDS.
TO MAKE AN ONLINE PAYMENT, PLEASE CREATE AN ACCOUNT WITH SCHOOL CAFE BY CLICKING THE LINK "ONLINE PAYMENTS" BELOW, OR BY CLICKING ON THE SCHOOL CAFE BUTTON ON THE NUTRITION SERVICES WELCOME PAGE.
Please take advantage of the options to prepay your student's meal accounts. Parents are encouraged to prepay for their students' meals by depositing money in their student's accounts.
Prepaid meal accounts help the lunch lines go faster and gives students more time to eat, relax, and play. This helps to speed up the lunchlines by minimizing cash transactions, lost lunch money and making change. It also gives you the peace of mind of not having to worry about looking for lunch money every day or worry that it might get lost, stolen or used for other things other than lunch.
Prepayment Options for your convenience include:
Making a payment online
Sending check or cash to school with your child in a sealed labeled pre-payment envelope. (You can print out a preformatted envelope below)
Mailing in a check along with the mail-in form
Every student in WCUSD has a nutrition services account that they access when they eat in the school cafeteria by using their student identification number either by student ID card swipe or by a PIN Pad. Every student's account is uniquely identified by name, student number, homeroom and student photo.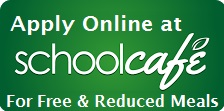 For San Jose Charter Academy go to the San Jose School site.
Send Check or Cash
You can always bring money personally or send it with your student. Please place it in an envelope marked clearly with your student's name, their ID #, their teacher's name, the $ amount and the check #. Turn in prepaid deposits to the cafeteria cashier(s) or school office.